Research projects
Explore our current research projects in the Centre.
Maximising Therapeutic Utility in Rheumatoid Arthritis (MATURA)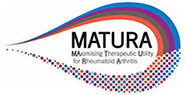 The aim of MATURA is to find and develop tests that will allow better targeting of the available treatments to those who would benefit most, thereby improving the selection of the best treatment for individual patients.
Childhood Arthritis Prospective Study (CAPS)

CAPS aims to identify the predictors of short-term and long-term outcome following presentation with childhood-onset inflammatory arthritis.
We also aim to identify the relative contributions of socio-demographic, clinical, psychological, laboratory and genetic factors and treatment in explaining outcome.
Biologics in Rheumatoid Arthritis Genetics and Genomics Study Syndicate (BRAGGSS)

The BRAGGSS study collects data from patients receiving biologic therapy to evaluate the role of genetic variation, psychological status, clinical variables, serological measures and environmental factors in determining response to treatment.
Identification of rheumatoid arthritis causal genes using functional genomics

Dr Gizela Orozco has been awarded a Wellcome Trust Senior Research Fellowship. Her project aims to functionally characterize rheumatoid arthritis risk loci to identify causal genes and pathways, with the goal of translating GWAS findings into biological disease mechanisms and suggesting therapeutic targets.